30 years of dog training experience in San Francisco goes into every training session. Place my expertise in your hands and choose the training program that fits your individual need. The training program will be based upon your pet's age, sex, breed and temperament...his personality and yours...the way you interact with each other...and the environment you provide for him, both indoors and outdoors. I also take into account the needs, capabilities and expectations of both you and your dog, as well as the unique circumstances of living in San Francisco that contribute to your success.
Have you received conflicting dog training advice, read dog training books that say different things? As dog trainer of 30 years, working with pets and people in the San Francisco area, I can objectively assess your dog and show you the relevant dog training methods and information that will leave a lasting impression on your dog.. San Francisco. acknowledged my effectiveness as a dog trainer in its annual "Best of S.F." issue, where I was the only dog behaviorist featured. More than 5,500 dogs, cats and their owners, have successfully learned to manage their dogs better, deepen the relationship with their dog and quickly modify problem dog behavior.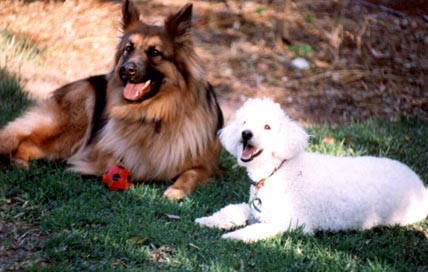 TRAINING METHOD:
Effective dog training is not a turnkey operation that is performed by a professional dog trainer on your dog. Whether you have a Labradoodle, Shih-Tzu, rescue, Retriever, Pug, Terrier or any of the other breeds, training is the transferring of information and techniques specific to your dog; establishing a vocabulary and a style of interaction that best fits with you, the owner, which over time, creates a relationship and enables the dog to understand what you want while maintaining rapport, love, and respect for you. As a dog's behavior is dependent upon its environment, the quickest results come when I train you and your dog in your home environment.
Dog Collars, Leather Dog collars, Spiked dog collars, Padded dog collars, Best dog collars, Large dog collars, prong dog collars - Dog training equipment for professional k9 schutzhund trainers
When you need dog training harness
San Francisco kennels dog training
Dog training service animals San Francisco